2016 KEMTA Awards
Nominations are OPEN!
The nomination and awards process is an integral part of Conference and KEMTA. We enjoy the opportunity to honor and recognize individuals and services who have shined throughout the year. To nominate someone for one of the many awards given out each year, please send an email to Brad Sisk (
This email address is being protected from spambots. You need JavaScript enabled to view it.
), with a letter explaining why you feel your nominated individual deserves the Award. Your nominating letter will be given to the Awards committee to determine the recipient.
All nominations must be received before February 1, 2016
Bob Orth Award
To be presented to any person with Kansas EMS certification or higher, that has displayed a lasting impression and selfless commitment to the KEMTA organization. Recipient must be a KEMTA member.
Lyle E. Eckhart Award
This award shall be presented to a person who the awards committee feels has made one of the highest and overall most substantial contributions to emergency medical services during the award recipient's career in emergency medical services.
Norman E. Mc Swain Award
This award shall be presented to a person who the awards committee feels has made the most outstanding contribution to emergency medical services in his or her community.
Outstanding Attendant Award
This award shall be presented to a person who the awards committee feels has best exemplified the excellence of pre-hospital care in Kansas.
Outstanding Service Director
This award shall be presented to a person who the awards committee feels has created or continued the most outstanding emergency medical service in Kansas.
Outstanding Instructor/Coordinator
This award shall be presented to a person who the awards committee feels has demonstrated the best commitment to the highest ideals of EMS education in Kansas.
Outstanding Training Officer
This award shall be presented to a person who the awards committee feels has demonstrated the best commitment to the highest ideals of continuing education in their service.
Outstanding Medical Director
This award shall be presented to a person who the awards committee feels has demonstrated the best commitment to the highest ideals of medical director in their service.
Outstanding Civilian
This award shall be presented to a non-certified person who the awards committee feels has demonstrated the best commitment to the highest ideals of pre-hospital care in their community.
Outstanding Emergency Service
This award shall be presented to the emergency service that has delivered the best in pre-hospital care in their community.
Outstanding Elected Official
This award shall be presented to the elected official that has contributed the most to emergency medical services.
Kansas EMS Hall of Fame
This award shall be presented to the individual that has made a lasting impression on Kansas EMS during their lifetime.
Irvin Powell Memorial Award
Presented to a Kansas Certified EMS Provider who exemplifies excellence in community service, much like Irvin Powell did. Send nominations for this award to: SKEMS, c/o Kathy Dooley, 475 S. Towns Blvd. - Garden City, KS 67846


Jeff Landgraf Award
Presented to anyone who exemplifies excellence in pediatric education. Send nominations for this award to: SKEMS, c/o Kathy Dooley, 475 S. Towns Blvd. - Garden City, KS 67846

Recipients for 2015
Elected Officials Award
The Board of County Commissioners has been very supportive of Emergency Services over the years. The commissioners worked with the governing boards for the ambulance services in two towns within our county to combine the services into 1 County based service. Numbers of volunteers had declined and both services had the same service director. Our medical director for both services, approached the boards to try to facilitate combining the services. In 2010, our County Ambulance Service was first licensed by the Board of EMS.
Since that time we have added 4 full time technicians and 2 part time positions. Full time paramedics and AEMT's staff the ambulance with 24 hour shifts. Volunteers are encouraged to fill the call schedule. We have nice ambulances and good equipment. We recently added Stryker Power lift systems to our 2 first out units. Commissioners felt this was a necessity for patient care and technician safety and quickly approved the purchases.
The Board of Commissioners has purchased property with excellent access to the Highway that passes through our community and will soon began construction for an ambulance station complete with offices, a classroom and crew quarters. The commissioners have committed the financing to construct a very user friendly building that will be able to be used by multiple county entities.
KEMTA would like to award the Haskell County Commissioners for the Elected Official Award because of their continued support and commitment to Haskell County Emergency Services.
EMS Hall of Fame
Our nominee began her full-time career with the local EMS in June of 1 997. Prior to that she was a RN at our local hospital and was the school nurse for our local school district . Despite several significant health challenges, she continued to provide dedicated service to that EMS for many years until she was almost 70. She spent countless hours refining protocols, recruiting technicians and building the family environment that is crucial to the success of a volun teer service. Unfortunately, after battling illness for years, she lost her battle with cancer on August 27, 2010 while still serving as the local EMS Director. Despite the void left in our community , her community is left with a strong service and a dedicated pool of volunteers that she helped to create.
She was very committed to working with her staff and patients but more than anything she was sincere, kind and compassionate. Despite having a level of community involvement that would inundate many others, she often wore a smile and commanded respect amongst her peers. She touched the lives of many residents through her efforts but she'd never brag or boast about it. She was committed to helping deliver healthcare to those in need but also helped many of those that were lost find their way into the field of pre-hospital care. I f there were a proverbial "diamond in the rough," you could bet that she would find it and polish it up.
In summation, many believe we can all learn a great deal from her and the exemplary career she had in EMS. She was an outstanding public servant that exemplified a popular ideology I share with George Washington Carver: "How far you go i n life dep ends on your being tender with the young, compassionate with the aged, sympathetic with the striving and tolerant of the weak and strong, b ecause someday in your life you will have been all of these."
It is our privilege to honor Joyce Pace by placing her in the Kansas EMS Hall of Fame.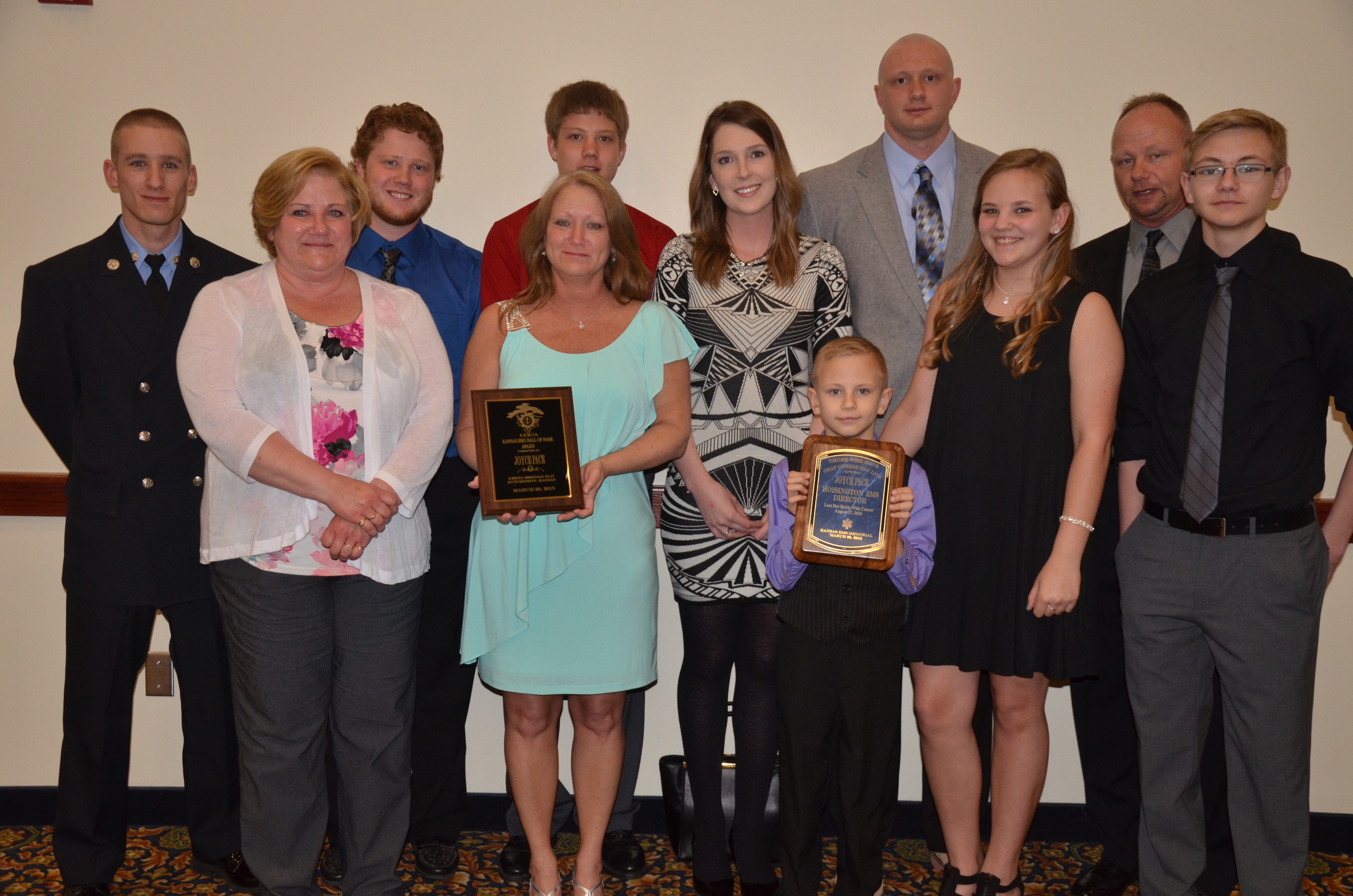 Outstanding I/C of the Year
For the last several years this instructor has taught BLS initial courses of instruction to students in many parts of Central Kansas. Under some conditions that others might call roughing it. They have always been up to the task and did his best to adapt and overcome.
He has been described as a pioneer of sorts in that he seems always willing to try new teaching concepts in his classroom. In an academic world where instructors are tempted to get complacent and satisfied with the way they manage the classroom, he is always searching for a better way to reach the students.
Lastly, he really does care about student success. He became a state examiner in part to make sure he knew what it took to prepare his students for their practical exams. His students honestly know that he cares. He never misleads his students because he knows that an EMT course can be very difficult and not everyone is a good fit. He is never afraid to both praise and reprimand a student because he wants everyone to succeed.
This year's award recipient is Cliff Moore
Service of the Year
This year's recipient for the service of the year is a combined Fire/EMS Department. Last year this service, which covers approximately 1/2 of their county, ran 852 calls with 904 patient contacts. The service ran 142 long distance transfers which are primarily covered by off duty personnel. It is also worth noting that Concordia is the only ALS service within their County. In 2014, the service employed 7 full time employees and 12 reservists, 5 of which were shift qualified. The department is very active within the community by offering public service classes throughout the year including CPR, initial EMS classes along with CE opportunities, as well as fire training classes. All of which are open for the public and surrounding departments. They have always been more than willing to help out the surrounding area public service departments, recently donating a Zoll M monitor to another local EMS. Personnel from this system are not only active in local affairs but also sit on several regional and state boards, including the state trauma council and EDTF.
This year's recipient is Concordia Fire/EMS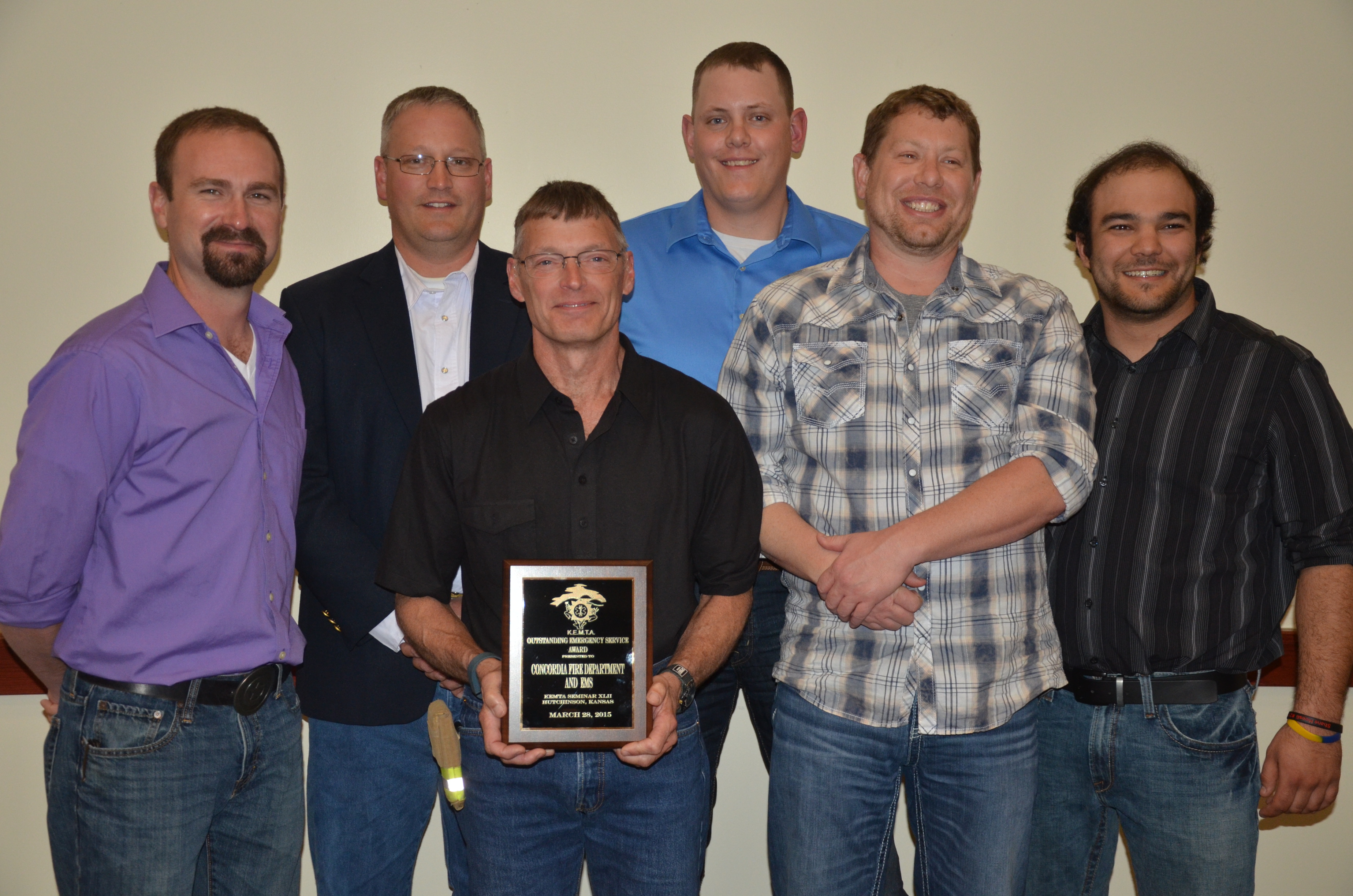 Norman E. McSwain Award
For EMT of the year, this person has been part of the local Fire Department starting in 1994. He started as a volunteer Firefighter/ First Responder and has worked his way up to Captain level as a EMT and TO for the Department. He has also been teaching CPR for many years always make the time to teach anyone in the community CPR to help save lives. He is always there when we need a shift filled or a transfer taken. He has always put the Department and the safety of the community first over things that he has planned and is always the first guy to step up and help with public safety events to include the fair and MDA boot drive. Last year he was involved in 275 fire/ems calls with our department and for the last 10 years he has ran 1,978 calls this is his way to so is involvement for safety. He has always put the safety and the need to help others in emergency and in training first. This is a reward that he has earned almost every year he's been an EMT
Tim Stangel from the Concordia Fire/EMS is the recipient of the Norman E. McSwain Award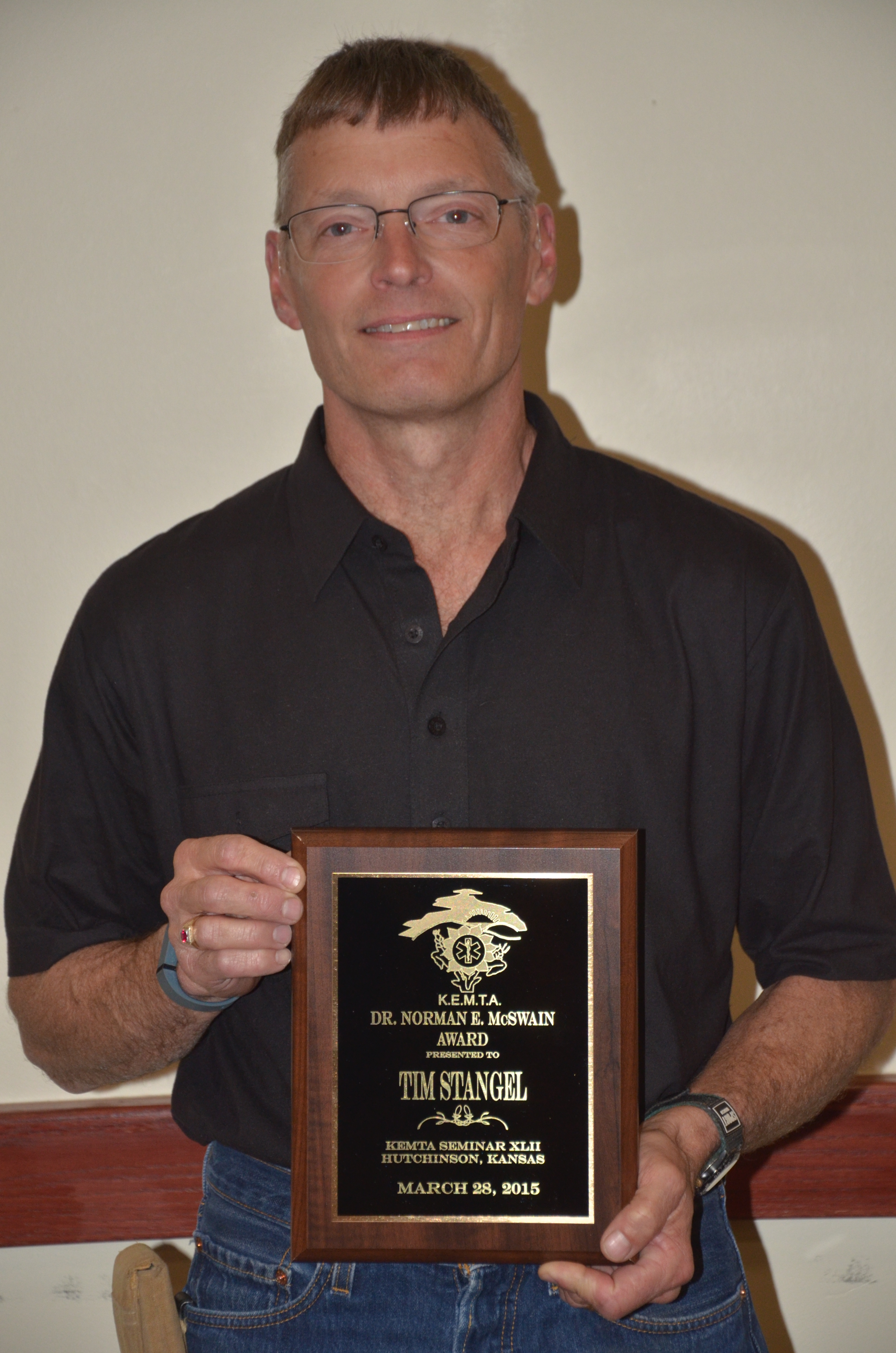 Outstanding Training Officer
Our nominee for the outstanding Training Officer award is a person who makes sure things are filed correctly and in order. The Instructors have so much to cover it is nice to have someone handle paperwork, file and general documentation. This nominee has a style that folks know that each time it will be done the right way and completed at that time. She has a great working relation with all our students and attendants.
She is able to take a part of training and make it a lot easier for all us by keeping everyone in the normal pace of each training night we do.
We would like to present this award to Nylene Johnson from Stevens Co EMS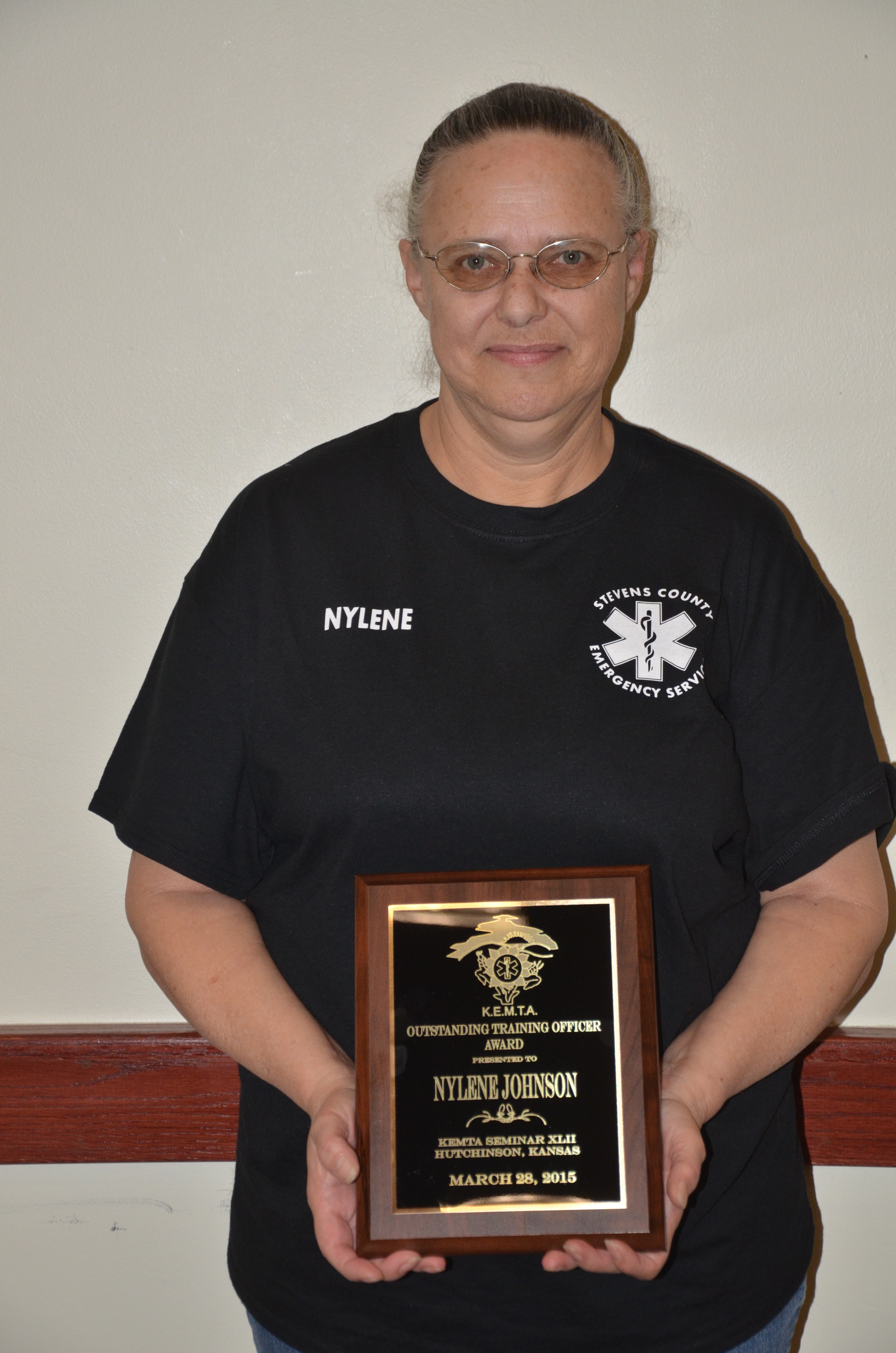 Irvin Powell Award
Our nominee for the Irvin Powell award is a gentleman we believe that possesses the qualities and giving spirit that this award was created to honor. He has been involved with Kearny County EMS as a volunteer for nearly 5 years and is a volunteer for Kearny County Fire & Rescue as well. He and his wife both began their EMS career by taking a First Responder class in 2010. They would often wake up at 5 in the morning to study together before he went to work. It wasn't long after becoming certified as a First Responder that they were back in class, this time studying to become EMTs. They would go on to gain EMT-I certification and then transitioned to the new AEMT level in 2012.
During the day, he can be found at any number of job sites across southwest Kansas where he builds homes and does general construction work for his father's company. He and his wife are the parents of 2 young children with a baby due in March. His willingness to step in and help wherever the need may be really speaks to his strong character and embodies the spirit of the EMS community.
In addition to his service to Fire & EMS, he is also actively involved in the local Mennonite church and community having served with various groups within the church such as the youth group, choir, and maintenance crew. On several occasions he has assisted with the church's Christian Disaster Relief organization which provides hands-on assistance to areas of the country that have been devastated by natural disasters.
Our EMS and community benefits greatly from many contributions and we truly appreciate his hard work and dedication to not only our service, but our community as well. It is that reason that we feel Kyle Johnson would be a wonderful recipient of the Irvin Powell award.
EMT of the Year
Our nominee for the Outstanding Attendant Award has been a part of her local EMS Service since July 1 5, 2003 when she started as a volunteer emergency medical technician.
Since then, she has worked full time in various public service positions and has spent more time serving the public then most people will spend in a life time. She was a supervisor for the County Co m munications center for many years and dedicated the bulk of her time off to taking call with our service. She was accepted to Barton Community College's paramedic p rogram in 2012. While attending school, she continued to work full time at the County and still found the time to take hundreds of hours on call for our ambulance service.
Following her graduation, she stared working as a full-time paramedic outside of her county. While doing this, she still manages to take approximately 1,000 hours of call with another neighboring county each year while continuing to provide care for the residents of home County.
With a diverse array of EMS exposure and a tremendous amount of field experience for such a young paramedic, we feel that Eleanor Durr is a deserving recipient for KEMTA's Outstanding Attendant Award.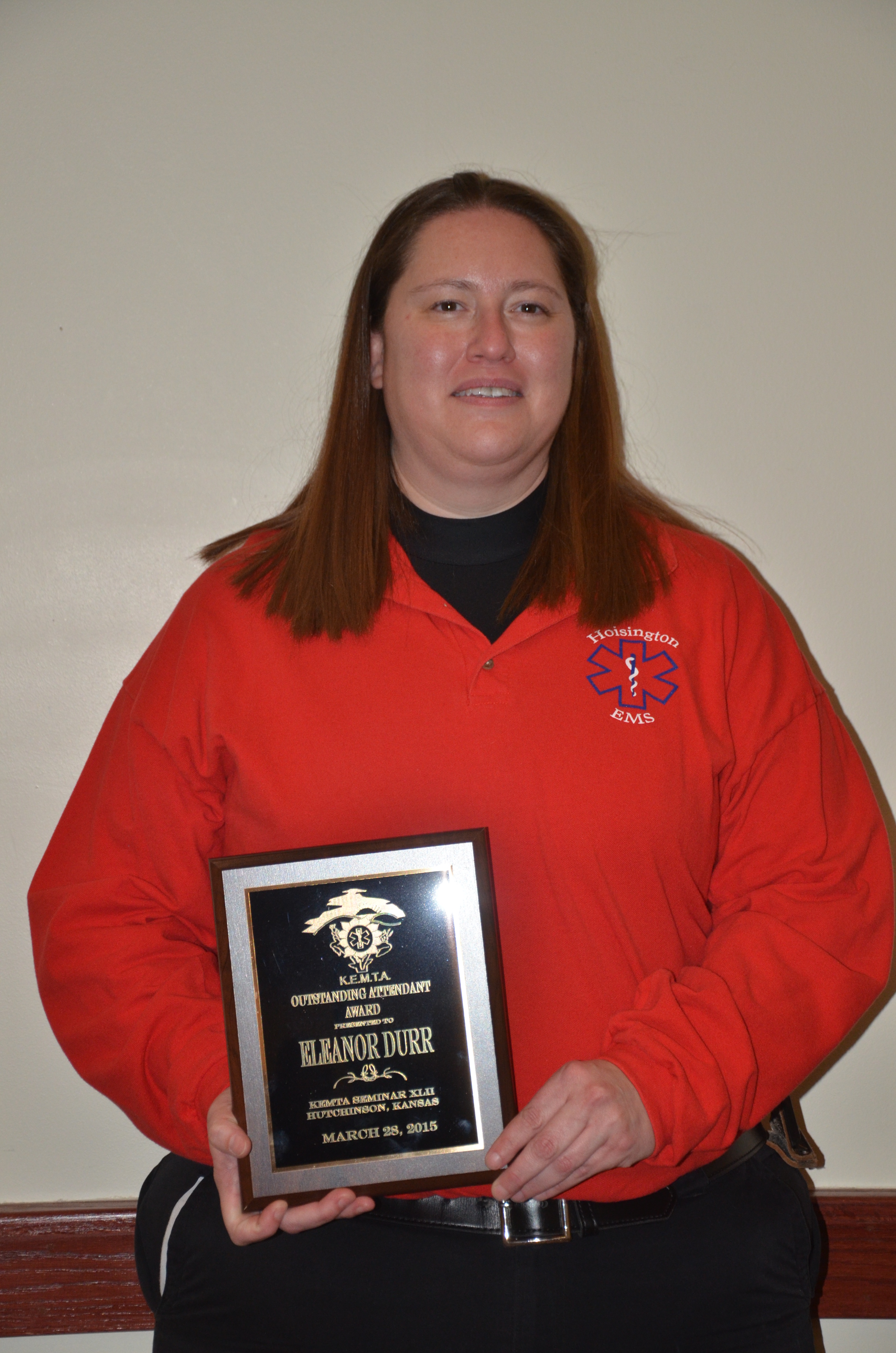 Outstanding Service Director
Our nominee for the Outstanding Service Director award has a down to earth attitude and ability to relate to the street techs that is a huge plus for its employees and County citizens. His open door policy is absolutely refreshing for not just employees of EMS, but to the county commissioners and hospitals our service works with as well. He has displayed the leadership necessary to not only make our service successful in providing outstanding pt care and service but he takes ideas from his employees and empowers us to continuously strive to better the service in all aspects. He has given his employees more individual responsibility and his employees have responded by taking the initiatives and rising to his expectations. With his leadership we have become a united team and are striving to become the amazing service we know we can be. With these comments within this nomination, we are honored in presenting this award to Skylar Swords of Finney Co EMS.
Outstanding Medical Director
Our recipient for the outstanding medical director has been the Medical Director for two counties for over 10 years. During this time he has been instrumental in developing and implementing some of the most aggressive protocols in the State. He is readily available 24/7/365, unless he is hunting, to answer a text or phone call during times of need. He and his wife are also members of our CISD team and are always there to listen and assist on those calls that none of us want to happen.
In addition to his regular practice, he works in the local ER several nights per month. He never misses an opportunity to make each EMS patient contact a learning experience for the tech. His QA notes are always positive and meant to serve as a learning tool.
The commitment the physician has to the EMS community is second to none. In addition, his commitment to quality pre-hospital care, community service and, unwavering dedication, will forever be unchallenged by any other provider.
In a recent article, it states is states that "Each year, four or five residents do a rural rotation with him. "A lot of them say, 'If I'd known rural medicine was like this, I would have been more excited about it,'"
He is not only our medical director, he is our friend. He knows each tech by name and, in fact, he is the primary Health Care Provider for most of us.
Dr. James Moffitt, Medical Director of Ford/Gray counties is the recipient for Outstanding Medical Director.